SDGToolkit is sufficiently different from conventional project cycle management systems to require training and guidance for users to achieve a good level of competence in using the system. Many analytical tools (ATs) range from very simple answers to questions to others requiring a range of data inputs. Paradoxically, the simpler ATs are where users can misinterpret what is required so this is why guidance and support are required.
Each user is provided with a completely dedicated server upon which to build their project portfolios. The hardware and software resources are designed to handle any number of projects and the operational fee structure is the same no matter how many projects are designed and managed using the system.

In order to minimize the operational costs on the basis of a sustained client support it is necessary to cover the higher up front costs of configuring a dedicated client server and then completing introductory courses for clients to get them up to speed in using the system. The approach adopted is one proposed by Nakhlatec of assisting clients in designing their first projects using the system by contributing extension support on the domain side as well as technical support on the software and hardware side. We believe that a high level of professional competence can be secured as a result of courses and extension within about four months of use of the system, preferably to design one or two different types of project. This is sufficient for users to understand AT operations and use of the integrated development system covering the four-section sequential due diligence design procedure and associated ATs to support the completion of each procedure. In this way users can understand how to manage the following operations:
Design
Design optimization
Operational management
On-demand oversight of any aspect of a project makeup and progress
Monitoring & evaluation during operations
Monitoring and evaluation on completion
Introducing adjustments to secure post-funding period autonomy
Although a complete set of modules, SDGToolkit is not a take it or leave it packaged solution but rather a resource which will be improved over time in response to client needs and for the clients it is a learning system. The full extent of the resources provided can be reviewed by accessing
the Full Site Menu here
.
A systems engineering economics approach
The range of sector coverage of Sustainable Development Goals is very large but some sectors such as agriculture, forestry and fisheries are not treated as separate domains but rather as part of a larger ecosystem. The advantage of analytical tools is that they can be used to manage data with respect to quite specific aspects of sector operations. With time SDGToolkit will extend the library of analytical tools in response to client requests. Each new tool is simply added to the existing kit and then becomes available for any client to use. The SDGToolkit team will design and implement and test any additional tool requested by clients as part of the service in which clients can participate directly in the team development efforts and helping refine provisions and raise the impact of SDGToolkit on project design and management.

Service options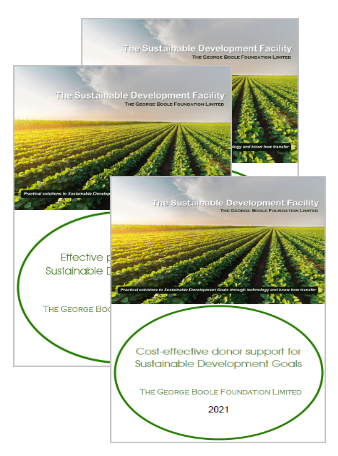 In order to minimize the cost of entry and operations while maximizing the benefits for clients we will apply a steep discount costing model involving a five year period. This model is designed to initiate use of the SDGToolkit on the basis of a fee-based service paid by the client or a donor as a training project initiative to improve project design and management. It is likely that in many cases institutions in low income countries will rely on donors to contribute to the Sustainable Development Facility (SDF) established to support SDGToolkit clients.
Relevant documents concerning the SDF benefits can be found in the
Resources section
.
The SDGToolkit service approach is one of an extension service initially through the introduction of an improved project cycle design and management and based on training and feedback from a wide range of sector clients we will adapt provisions by adding new analytical tools and provide training in their use. As a result, the SDGToolkit service can become a source of innovation in project design and management techniques, as well as in the advance of appropriate analytical techniques and tools.
The fundamental objective is, of course, the practical one of helping clients design, implement and manage better projects in support of Sustainable Development Goals. It is therefore proposed that SDGToolkit be taken up as part of an extension project, lasting 5 years. At the end of this period SDGToolkit will have worked with the clients to maximize the likelihood of use of the system becoming self-supporting with no further need for donor of SDF support.
Advancing professional competence and standards
An outline of the SDF training method is available in the following document in the
Resources section
,
"The SDF approach to training to raise the sustainable development impacts of project teams"
Based on our own field experience we feel that a minimum of 5 years training and on-the-job assistance to complete a project cycle, is required for client staff to be able to use the system proficiently. This is because the process of actually designing and implementing projects is the best way for people learn how to use the system. Also acquaintance with the system helps provoke new ideas to improve tools and suggest additional tools. Theoretical presentations are no substitute for on-the-job training and securing beneficial results as a result of a build up of knowledge and competence in the application of an advanced project cycle management system. As a result, using SDGToolkit is a sound basis for advancing the professional competence and standard applied by clients helping raise their performance of their organizations.